REPORT - 29th September 2020
Well everything has gone to shits. Between Uni assignments, increase workload at work, falling into a drug addiction relapse, family in-fighting and playing too much Dota 2, I've done sweet fuck all over the past month. The only thing I've done loosely resembling any content is starting the foundations of The Excursion 3 and drawing something to use for an audio visualiser for some new music (well, old for Newgrounds) to put on Youtube. Still got a few uni assignments to finish. Hopefully can carve out some time for animating. Also want to get back to the Sargon anime. I said I'd finish Season 6 before the year ends, and I intend to do exactly that. Especially since I want to do the fall of Ralph, doubly so with all his dumb drama going on. And I like to think I've thought of a hilariously awesome ending.
Current Priority list:
1. The Excursion 3 - Animation
# Doing the storyboarding/guidelines. Hopefully should be done before halloween. Not quite as "horrorish" as the last two, but it's still following the story. Already got myself a thing of doing another episode in this series every halloween. Now we get to actually see her go on the excursion itself.
2. Bella & Friend Wallpaper - Drawing
# Mainly to practice drawing more on Krita. Looking to move over to Krita from Adobe Flash for animation. Less efficient, but should (theoretically) be able to put out better looking animation.
3. Covid-19 || Corona-chan Anime [HD] Opening 1 - Animation
# That plague ain't stopping anythime soon, but better get in quick before the vaccine ruins the fun
4. Toaster - Animation
# Just a quick joke so my new OC Bella can get more screentime.
5. Marked Shark (Part 1) - Animation
# I've been sitting on this one for ages, need to actually finish it. I was working on years ago before I fried my old HDD. It's fucking awesome, but that means sweet fuck all if I don't actually finish and upload it. Going to release it scene by scene on Youtube. When it's fully finished, I'll upload it in full here on Newgrounds.
Current Project:
"The Excursion 3" - (estimated) Runtime: 4:30
Guidelines - 55%
Core animation - 0%
Backgrounds - 0%
VFX - 0%
Camera - 0%
Lipsyncing - 0%
Sound Design - 0%
Final Edit - 0%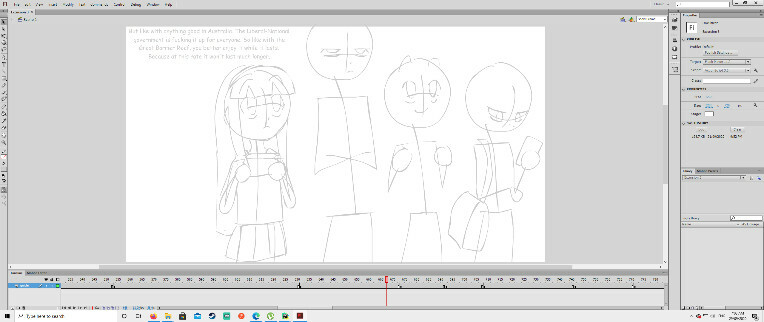 Bella and her cuddly pet: